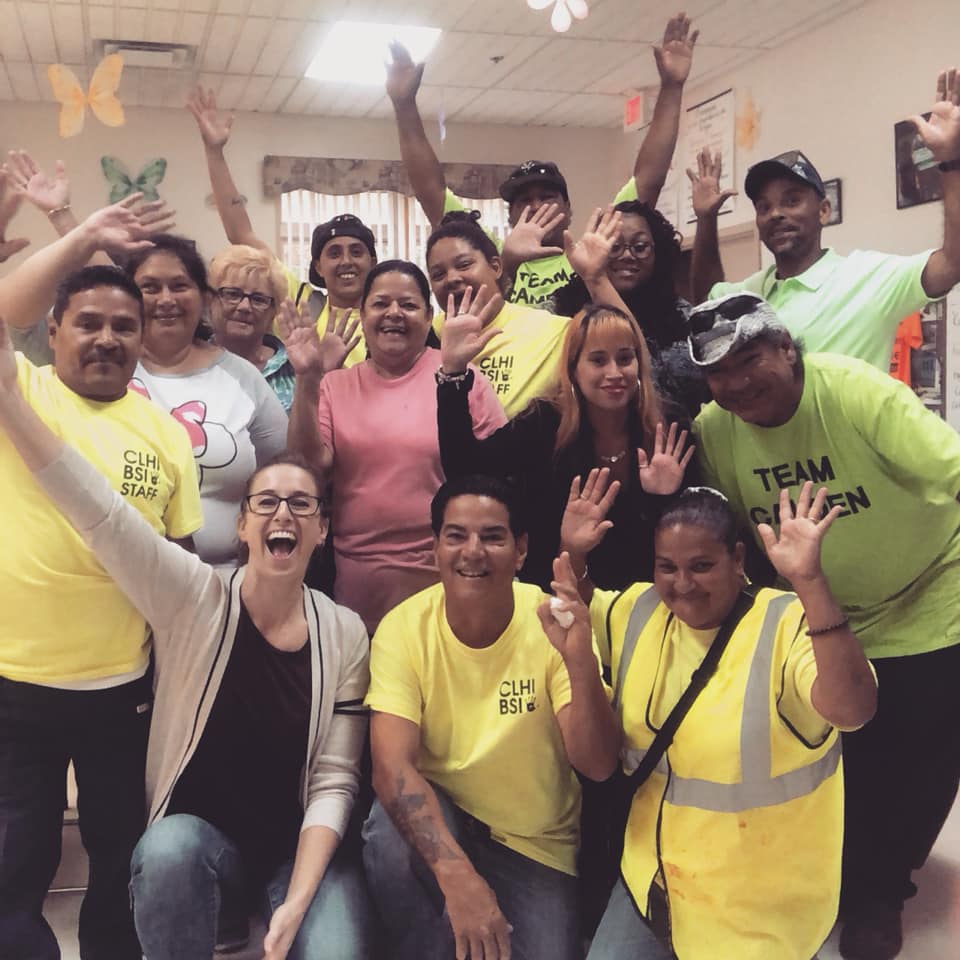 OUR MISSION
CLHI is a 501c3 nonprofit dedicated to community development in the North Camden neighborhood of Camden, NJ. Our work brings people together to physically, socially, and economically rebuild North Camden through housing development, job creation, urban beautification, and economic development.
CLHI has been serving North Camden since 1986.


We are dedicated to hiring local residents to make a difference in their community. Our staff is largely comprised of Camden residents.
OUR HISTORY

Camden Lutheran Housing, Inc. (CLHI) was established by people who wanted to make a difference where they lived, worked, and worshipped. Our founding members, including Dr. Earl Dixon and Luis Galindez, were well-known change-makers in the community. They set CLHI on our original mission to rehabilitate and newly construct affordable housing for individuals and families in North Camden.
In the 1990's, CLHI partnered with the North Camden Land Trust to rehabilitate blighted homes along the 400 block of State Street. This project saved original architecture from demolition and established 80 units of affordable rental housing which are still occupied today. Seeing the value of this work, CLHI participated in the first ever neighborhood planning process in NJ alongside our partners, resulting in the 1993 North Camden Neighborhood Plan. In 1997 and 2005, CLHI built two affordable rental communities on previously industrial land, Cooper Waterfront Homes (800 Galindez Court) and Cooper RiverView Homes (847 Bailey Street). These buildings defied the stigma of affordable housing with open floor plans, balconies and/or front porches, and Energy Star certified appliances. We proudly manage and maintain these communities today.
In 2007, we helped create the 2008 North Camden Neighborhood Plan. After it was approved by the City of Camden and New Jersey Department of Community Affairs (NJDCA), CLHI began applying annually to the NJDCA Neighborhood Revitalization Tax Credit (NRTC) program, along with our partners, to bring millions of grant dollars to the neighborhood. CLHI still leads NRTC in North Camden. Along with Save Our Waterfront, Respond, and Camden Community Partnership, we host a monthly North Camden Stakeholder Meeting to encourage collaborations and maximize impact.

From 2000 to 2014, CLHI built 28 new-construction affordable homes on previously abandoned land. These homes were sold to income-qualifying first-time homebuyers, breaking barriers for many low to moderate income families while helping build generational wealth. These homes have open floor plans, front porches, back yards, and off-street parking. 
In 2015, we introduced CLHI's Community Initiatives to improve the quality of life in the entire North Camden neighborhood. These programs reduced physical blight while providing jobs and creating hope, beauty, and healing in North Camden. CLHI still implements these programs today. This includes but is not limited to the Block Supporter Initiative, Decorative Board Up, Change the Message, and North Camden Community Gardens.

Our next housing development, Casas del Rio, is scheduled to begin soon. It will bring eight newly constructed affordable homes to North Camden, which will be sold to income qualifying first-time homebuyers. 
CLHI and our partners will update the North Camden Neighborhood Plan in 2021.
OUR STAFF
Brandi T. Johnson, Executive Director
Sandra Riddick, Director of Finance
Madeline Santos Suriel, Office Manager
Denise Skalkowski, Finance Coordinator
Willie Velez, Building Superintendent
Orlando Rentas, Maintenance Technician
Jose Santiago, Maintenance Technician/Groundskeeper
Edwin Reyes, Building Janitor/Groundskeeper
CLHI also hires part-time, seasonal staff annually to work on our Community Initiatives.
OUR BOARD
Dr. Victor Lee, President
Joseph Rodriguez, Vice President
Stephanie Gallieshaw, Member
Rev. Martin Gutwein, Treasurer
Emeritus – Honor & Respect to Board Members who are no longer with us.
Luis Galindez
Dr. Earl Dixon
Nancy-Lynne Smith
Carolyn W. Riley
Antoinette Green
OUR TIMELINE
1986

Original Members

1990

State Street Rehab

1997

Cooper Waterfront Homes

2005

New Construction Housing

2017

BSI Staff and Volunteers

2018

Housing Renovation